Le 23 Lifestyle Edition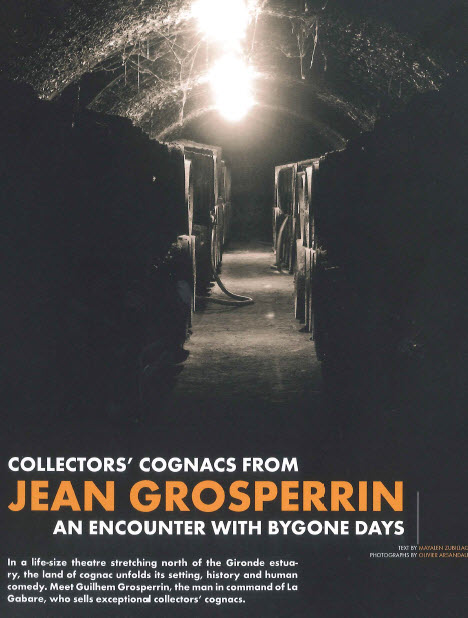 COLLECTORS' COGNACS FROM JEAN GROSPERRIN AN ENCOUNTER WITH BYGONE DAYS
In a life-size theatre stretching north of the Gironde estuary, the land of cognac unfolds its setting, history and human comedy. Meet Guilhem Grosperrin, the man in command of La Gabare, who sells exceptional collectors' cognacs.
TEXT BY MAYALEN ZUBILLAGA
COGNACS DE COLLECTION JEAN GROSPERRIN À LA RENCONTRE  DU TEMPS PERDU
Dans le théâtre grandeur nature qui s'étend au-dessus de l'estuaire de la Gironde, c'est tout l'univers du cognac qui se dessine à travers son décor, son histoire et sa comédie humaine. Rencontre avec Guilhem Grosperrin qui, aux rênes de La Gabare, propose d'exceptionnels cognacs de collection.
DÉBUSQUER LA RARETÉ
C'est une journée d'octobre en Charente-Maritime. Les récoltes viennent tout juste de s'achever. Bientôt, le vin issu des cépages blancs destinés à la précieuse eau-de-vie sera distillé deux fois dans un alambic charentais puis mis à vieillir dans des fûts de chêne. L'ugni blanc est largement dominant. Ce vigoureux cépage a remplacé la folle blanche et le colombard après la crise du phylloxéra des années 1870. Seuls quelques viticulteurs obstinés ont gardé, par passion ou curiosité, des petites parcelles de ces natifs de la région. Particulièrement vive et florale, la folle blanche donne son nom à l'une des dernières créations du négociant et maître de chai Guilhem Grosperrin, « L'esprit de la maison, ce sont des Cognacs rares et originaux qui ressemblent à leur terroir », explique-t-il dans ses locaux, d'anciens chais rénovés de la ville de Saintes.
ON THE TRAIL OF RARE PRODUCTS
Charente-Maritime. One day in October… The grape harvest season is just about over. Soon, the wine made from the white grapes used for turning it into precious eau-de-vie will undergo two distillations in a traditionally-shaped Charentais copper still, also known as an alembic still, prior to being left to age in oak barrels. Ugni Blanc grapes are predominant. This sturdy variety replaced the Folle-Blanche and "Colombard" varieties after the phylloxera crisis of the 1870s. Out of passion or perhaps out of curiosity, only a few obstinate wine-growers kept small plots of these two native varieties. Folle-Blanche, a distinctly spirited and floral variety, gives its name to one of the latest creations by cognac-merchant and cellar master Guilhem Grosperrin. "The spirit of the house rests upon rare, unusual cognacs that are in the image of the area where they were born", he explains on his premises, former renovated cellars in Saintes.
IN THE NAME OF THE FATHER
But the historical specialty of the establishment is vintage cognac, particularly rare because cognac is traditionally made from blends. Since 1988, a drastic legislation has been requiring that the grape harvest year be certified by a bailiff's affidavit and through carbon-14 dating. "My father actually had the formidable intuition that such treasures had to be saved from large trading houses and over-blending", Guilhem, says. In his house sheltering some truly magnificent bottles – one of them has travelled through time since 1820 – visionary Jean Grosperrin reminisces about his life, first as a farm worker, then as an itinerant distiller and later as a field broker in Charente-Maritime, a period during which he moved through the mazes of a peregrinating lifestyle that was as rich as it was poetic. "As a broker between growers and merchants, I discovered cellars in which very old cognacs were sleeping. Some of them had lost 80% of their initial volume in alcohol – what we call the angels' share!" In the course of his stubborn explorations, he bought several batches that were bottled under the La Gabare label, the name of the company he created in 1992. His son took over in 2003.
AU NOM DU PÈRE
Mais la spécialité historique de l'établissement, ce sont les cognacs millésimés, véritables raretés dans cette appellation traditionnellement faite d'assemblages. Depuis 1988, une législation draconienne permet d'authentifier l'année de récolte du raisin, huissiers et datation au carbone 14 à l'appui. « C'est mon père, Jean, qui a eu la formidable intuition qu'il fallait sauver ces trésors des grands groupes et des assemblages géants », raconte Guilhem.
Dans sa maison qui abrite des bouteilles étourdissantes, dont la plus ancienne a traversé les siècles depuis 1820, Jean le visionnaire évoque son parcours d'ouvrier agricole bourguignon devenu distillateur ambulant puis courtier en Charente-Maritime, à travers les dédales d'une vie de bohème aussi riche que poétique. « Intermédiaire entre les viticulteurs et les négociants, j'ai découvert, dans les chais, des cognacs anciens dont certains avaient perdu 80 % de « part des anges » (L'évaporation de l'alcool dans l'atmosphère). Au fil de recherches entêtées, il achète plusieurs lots et les met en bouteille sous le sceau de la société qu'il crée en 1992, « La Gabare », suivi par son fils à partir de 2003.
L'ESPRIT DU COGNAC
Militante d'un patrimoine authentique dans une terre d'adoption, la famille Grosperrin reflète ainsi l'identité même du cognac, ce produit qui célèbre à la fois l'ancrage dans le local et l'ouverture sur le monde. Avec ses « alambics » aux accents arabes, ses navigateurs hollandais qui eurent l'idée au XVe siècle de distiller les vins charentais pour mieux les conserver, ses marchés qui vont de l'Amérique à l'Asie, le cognac est le fruit d'une généalogie cosmopolite. Fidèles à cet esprit, les Grosperrin père et fils défendent une vision exigeante mais ouverte du terroir. « Dans nos collections, tous les crus sont représentés, souligne Guilhem. Nous voulons raconter l'ensemble des terroirs et témoigner de moments historiques marquants ». Pour preuve, la dégustation vertigineuse d'un cognac de 1914, portant l'empreinte des femmes qui, pour remplacer les hommes partis en guerre, prirent en charge l'élaboration de l'eau-de-vie.
Bois ordinaires de l'île d'Oléron 1991, Fins bois 1975, Borderies 1961, Bon Bois n° 44, Grande champagne n° 24… : Quelle est la meilleure façon de découvrir ces cognacs hors du commun ? Pour Guilhem Grosperrin, c'est au moment de l'apéritif qu'il les préfère, ou en guise de digestifs à condition d'attendre au moins deux heures après le repas. Un grand cognac se déguste à la température du chai, soit 17 ou 18 degrés, afin de bien percevoir les ex- pressions aromatiques des crus et des cépages. À la clé, des parfums de fleurs, d'iode, de côte sauvage et de soleil, d'épices, de fruits confits, de champignons ou même de tabac. Et de conclure « Nos 25 000 bouteilles par an, c'est une goutte de cognac dans le monde, mais une goutte addictive ! »
THE SPIRIT OF COGNAC
Campaigning for an authentic heritage within an adoptive land, the Grosperrin family hence reflects the very identity of cognac, a product that celebrates both its attachment to the growing region and its opening to the world. With its "alembic" stills – the word "alembic" comes from Arabic, its Dutch sea-farers who, in the 15th century, thought up of distilling Charentais wines so they would keep longer, its markets stretching from America to Asia, cognac is the fruit of a cosmopolitan lineage. Faithful to that spirit, father and son defend a demanding yet open vision of local characteristics. "In our collections, each growing region has its place", Guilhem emphasizes. "We want to highlight the local features of every growing region and bear witness to historical landmarks". Proof of this is the mind-blowing tasting we had with a 1914 cognac bearing the distinctive mark of those women who took charge of the eau-de-vie production when their men went to war. "Bois Ordinaires de l'Ile d'Oléron 1991", "Fins Bois 1975", "Borderies 1961", "Bon Bois n°44", "Grande Champagne n°24"… What's the best away to discover such cognacs that stand in a class apart? Guilhem Grosperrin prefers them as pre-dinner drinks, or after dinner, but at least two hours after the end of the meal. A great cognac is to be enjoyed at cellar temperature, that's between 17°C and 18°C, as it will enhance the aromatic expression of the growing regions and grapes. It is the key to detecting aromas evocative of flowers, iodine, coastal wild lands and sunshine, spices, candied fruit, mushrooms, or even tobacco. "Our 25,000 bottles a year may be but a drop of cognac in the world, but what an addictive drop it is!" he adds by way of conclusion.